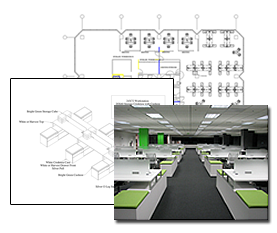 The opportunity to enhance your office environment doesn't come around very often, which is why the goal at AAA Business Interiors is to guide our clients through the process and insure they receive the maximum benefits that a well designed space can provide. When an office space is designed with the client's culture and requirements in mind, it can often enhance such areas as employee recruitment, employee retention, and employee productivity. We work with companies of all sizes and recognize that each client is different with no "one size fits all" solution.



Programming (the pre-design stage)


Our sales and design team will meet with you to gather information, and discuss project goals and requirements. These meeting can include end users, consultants and design firms.



Consultation and Site Survey


We visit your job site, and verify all necessary dimensions. Or if it's under construction, we study the completed design drawings. If your project focuses on reusing existing furniture, we also do an inventory.



Space Planning & Design Development


We explore ideas and concepts, and select products to fit your specific needs. Our in house design team will create drawings that will show you "typicals", so you can see and understand the actual workstation or area design. Finished plans are created in 2D and 3D, so you can understand exactly how your space is evolving, every step of the way.



Project Documentation


In the project documentation phase, we guide you through the section of products, finishes, upholsteries and materials. We can even help select architectural finishes, such as paint, wall and floor coverings. We provide you with all the specifications, and then create finished plans, including electrical and data locations if needed for your contractor.



Installation Drawings


We create furniture installation drawings noting the type, size and placement of every piece of furniture. If your project involves electrical and data locations, we recommend access points and ensure they coordinate with the building systems.

We also take the extra step of auditing plans and specifications for accuracy, to ensure your installation plans meet all necessary code compliance, and all order quantities are correct.