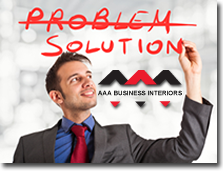 Move Management


Moves and relocations are the norm for many of today's fast paced businesses. A well coordinated move will minimize employee downtime, and lost profits. AAA can design your new space and move your existing furniture for you. One of our project managers will be happy to give you and estimate and preform the coordination and communication duties throughout the process.



Disposition or Purchase of Existing Furniture


AAA Business interiors may arrange for the purchase or disposition of your surplus furniture, through our network of connection throughout the industry.



Computerized Inventory Control


Your assets and inventory are important to your company's bottom line, and we want to relieve you of the burden of having to handle the complexities of furniture assets and inventory management. AAA Business Interiors provides this service for you no matter if your furniture is stored on the premises or off site.



Warehousing


AAA Business Interiors will help you find a convenient and cost effective location for the warehousing and storage of you furniture.



Electrostatic Painting


The painting of metal files or furniture can be completed at your facility or ours.



Maintenance


We offer furniture cleaning, fabric protection and repair services.



Furniture Leasing Options


WE OFFER AN INCREASINGLY POPULAR & COST EFFECTIVE ALTERNATIVE TO PURCHASING FURNITURE. Several leasing options are available; we can work with your budget to find the best option for your needs.